One Track Mind
CD available at
iTunes
and CD Baby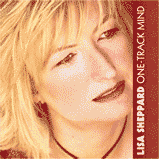 FREE Bonus Track Download
WMA or MP3
Lisa Sheppard is excited to announce the release of her debut CD "One Track Mind" this October 2009. The CD embodies a stylistic blend of rock, blues and country music, making it a fusion of sound consistent with her roots.

Lisa may be a newcomer to the music industry, but she has been performing since she was a teenager on stage in plays and musicals. It was a completely spiritual calling to play guitar again after a more than 20 year hiatus and she began writing songs almost the instant she picked up the guitar. Jason Hiller produces this debut CD and brings to it an authentic instrumentation that is complementary to both the songwriting as well as the vocals.

Rarely does an artist expose themselves as beautifully to the world as Lisa Sheppard does in One Track Mind. The songs are intimate, edgy, funny and touching. From the sexy yet lonely sound of "Will You Be My Lover Tonight" to the spiritual, swampy blues sound of "Rise Up", the CD is well-rounded and fulfilling for the listener. It takes you on a journey of the songwriter's experiences which are soulful, thought-provoking, heartfelt and original.